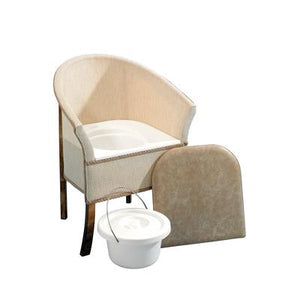 Homecraft Bedroom Commode
Homecraft
The Homecraft Bedroom Commode is an unobtrusive commode designed to blend well into any room or decor. The pan can be removed to allow efficient waste disposal, while the comfortable weave material can be wiped clean for improved cleanliness.
Indications of the Bedroom Commode
The Homecraft Bedroom Commode has been designed to provide individuals with an unobtrusive and stylish commode. For users who would prefer to install a commode in their bedroom or elsewhere in their home that blends in with the decor, this commode is the perfect option.
The woven design is flexible and forgiving, combining comfort with its wipe-clean surface for improved hygiene. The moulded plastic seat is ergonomically shaped for comfort, ideal for anybody looking for a supportive and practical commode for use in the home.
Hygienic Design
In addition to being an attractive commode, the chair also allows for effective hygiene maintenance. The commode pan can be removed from the chair for thorough cleaning, and includes a handle and lid for safer waste disposal.
The vinyl-covered foam seat pad can also be wiped down, and provides a touch of comfort to the chair when it is not in use as a commode.
Technical Information
Maximum user weight: 160kg (25 stone)
Weight: 7kg
Width at top: 519mm (20.5")
Base width: 562mm (22")
Total height: 769mm (30.25")
Seat dimensions (WxDxH): 437 x 437 x 462mm (17.25 x 17.25 x 18.25")