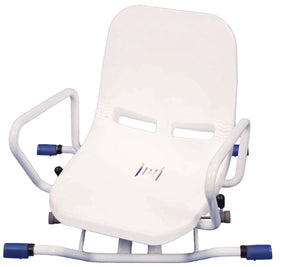 Coniston Rotating Bather Bath Seat with VAT
Coniston
Regular price £158.40 Excluding VAT
The Coniston Rotating Bather is a high quality rotating bath seat. It is width adjustable, fitting not only standard baths, but also extra wide baths (up to 27/28").
The Coniston Bath Seat has a pivoting base that enables the seat to turn 90 degrees in either direction, it can be locked in position for maximum stability.
The Coniston Bather offers maximum stability and comfort to the user making it an ideal alternative to many bath boards, it also has the benefit of width adjustable arms.
No special fittings are needed to install and the Coniston Rotating Bather can be removed in seconds.